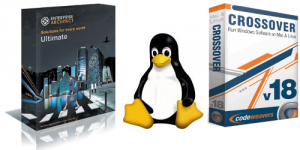 Today, I'd like to share my consistently positive experience with Enterprise Architect on Linux and CodeWeavers' CrossOver commercial Wine implementation.
As a Linux operating system I use the Ubuntu derivative Xubuntu 18.04 with its fast and slim XFCE Window Manager together with CrossOver in version 18.x. The Enterprise Architect was used in version 14.1 (build 1427).
The advantage of CrossOver is its stability and ease of use: as a user, you do not have to deal with the complex and expensive installation and configuration of Wine, and no other applications (such as winetricks) are required for smooth operation. All of my Windows applications are stable and fluent, clear in appearance and supported by CrossOver.