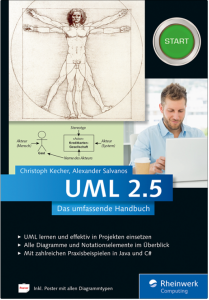 In the actual edition of the standard work, Christoph Kecher teaches you his knowledge, from the basics of modeling to the professional use of UML. Christoph Kecher makes clear what his book is about: the application of software modeling with UML. As a software engineer and co-author of C / C ++, he is not one who deals with UML only academically.
He introduces UML 2.5, deepening and demonstrating the practical application. Structural, behavioral and interaction diagrams give the framework, which is illustrated by concrete application examples of the notation elements with Java and C #. Learn UML, improve the use, or clarify questions about UML: UML 2.5 does the job.
Available in well-stocked specialist and online trade, or
directly at the publishing house.